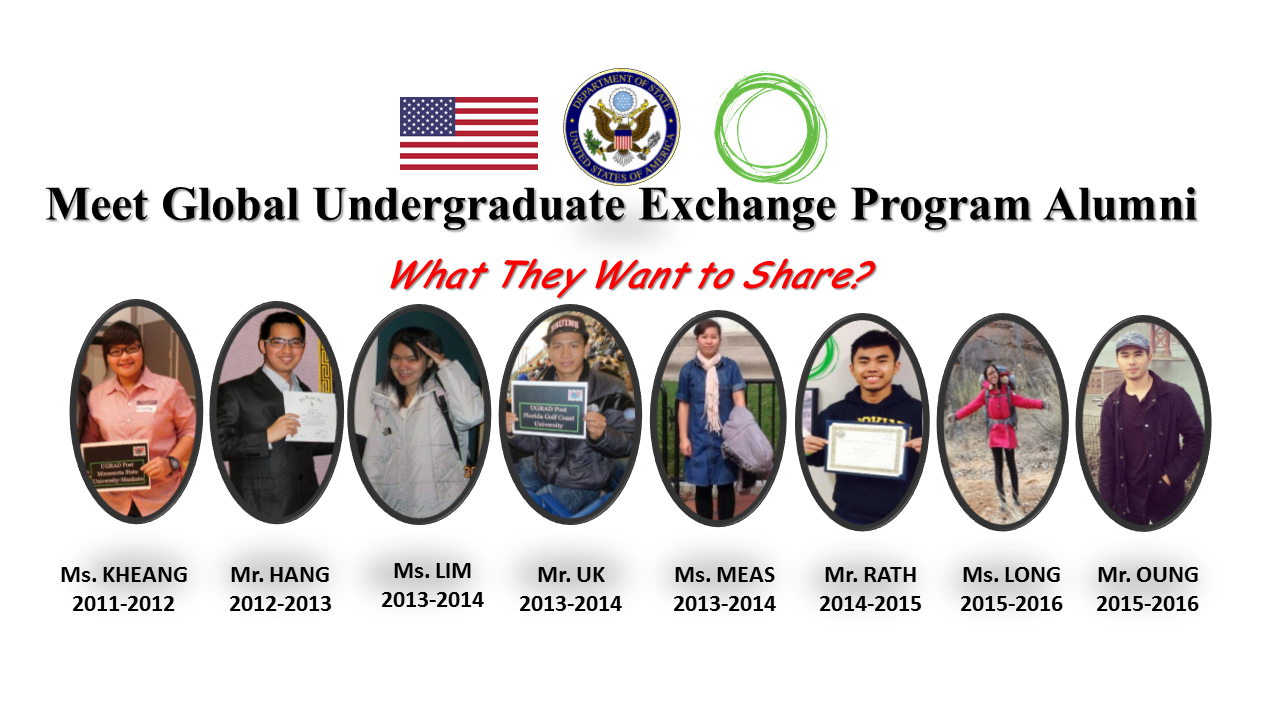 Sponsored by the U.S Department of State and World Learning Organization, UGRAD is a short-term exchange scholarship program which provides a unique opportunity for undergraduates from all around the world to study in universities throughout America for one semester or one year. Its full name is "Global Undergraduate Exchange Program". The vision of this program is to promote international collaboration amongst youths worldwide who are prospective leaders in their countries, to enable them to gain new knowledge and skills so that they can apply those upon returning to their home countries, and to better understand the U.S society and value through participation in various events during their exposure in the program.  Below are some Global UGRAD nominees from  Cambodia. They will share their experiences gained while studying in the U.S, perspectives on the world (how theirs have changed since they come to the U.S, and reasons why they decided to participate in this program.
UGRAD 2011-2012, Minnesota State University Mankato
Sethaboramana KHEANG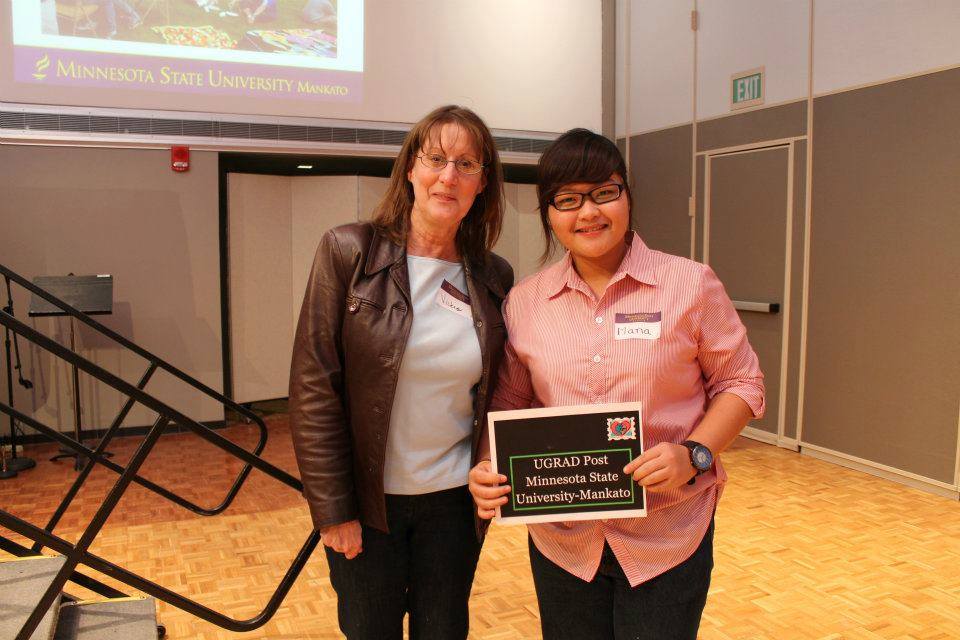 "When I was placed at the Minnesota State University Mankato in 2012, my friends asked why I chose one of the coldest places in the United States for my exchange program.  I answered, "I do not know, maybe it is for the best".  It was indeed for the best. The Global Undergraduate Exchange Program (Global UGRAD Program) has changed my life completely.
Before I participated in the Global UGRAD Program, I was a part of the alumni association in Cambodia, called the Fulbright and Undergraduate State Alumni Association in Cambodia (FUSAAC).  Since my return from Minnesota I have become more involved in FUSAAC by volunteering in various activities.  I have also served in a number of leadership positions, including Team Leader for the Major and Career Fair and American Corner and Outreach Project Coordinator, where I worked closely with more than 1,000 high school students.  These experiences have enabled me to realize my dream of working to help people and to serve in international organizations, where I have met many courageous and experienced colleagues who work tirelessly to promote inclusive development and human rights.
After receiving my dual Bachelor's Degree in Education and International Relations, I was fortunate to serve as a Human Rights officer on Lesbian, Gay, Bisexual, and Transgender (LGBT) issues at the United Nations (U.N.) Human Rights office in Cambodia.  For one year, I worked to promote and protect human rights for all, including marginalized populations such as the LGBT community.  During this period, I lived outside my comfort zone and traveled all over Cambodia and to other countries.  I was selected to participate in a TED Talks-like event, the United Nations Volunteers Partnership Forum in Bonn, Germany where I gave a talk to promote more global volunteerism and protection of human rights for inclusive development.  TED began in 1984 as a conference where Technology, Entertainment and Design converged, and today covers almost all topics — from science to business to global issues — in more than 100 languages. TED is a nonprofit devoted to spreading ideas, usually in the form of short, powerful talks (18 minutes or less).
After my service at the U.N, I decided to pursue my higher education in the United States – once again!  I recently graduated with a Master of Arts in International Studies (MAIS) from the University of San Francisco in California.  I also had an opportunity to be a graduate commencement speaker to spread more awareness on the importance of education and social justice.  It is such a priceless experience to have met so many faculty members and classmates who share my passion for human rights and social justice.
My passion for inclusive development, world peace, diplomacy, and human rights has not stopped.  I am currently an intern at the International Rescue Committee in Oakland, CA.  In my role as a Volunteer Coordinator, I work with people whose lives and livelihoods are affected by conflict and disaster to help them rebuild their future.
Through all the people I have met and worked with in the United States and Cambodia, I have come to appreciate every life and will encourage other people to do the same."
UGRAD 2012-2013, University of Montana
Vuthika HANG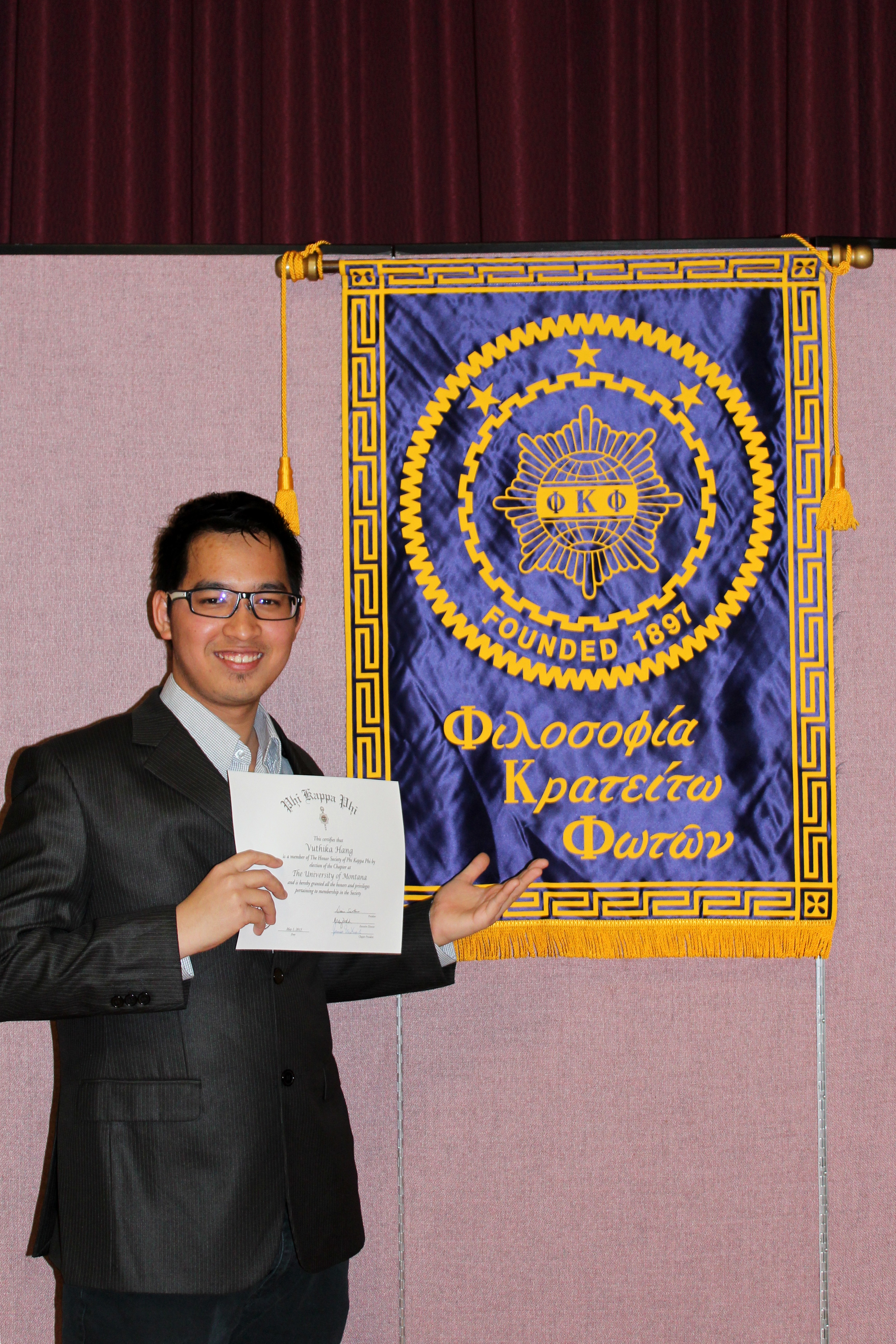 "Selected as a UGRAD finalist in 2012-2013, I was placed at the University of Montana to study Political Science for a year. It was a fascinating year for me as a political science major to be there in 2012 because I have got to take the course "US political parties and elections", to experience the presidential race, and to witness Obama's re-election into office. I was quite nervous before departing to the US because I thought I would not be able to cope with the academic workload, but it turned out that I strived to do just fine and fit in quite well with the academic and social life. One quality, inter alia, that I have learnt from the US education system was that professors were not restrained by the materialistic incentives. Rather, they were driven more by the altruism to contribute back to the society through their sharing of knowledge without fear of political intimidation and setting themselves as role models. These professors will continue to be one of the finest features of the American education system. Reflecting back to the rationale behind my determination to participate in Global UGRAD was the curiosity and the need to experience American higher education, which enabled the US to achieve many god-like achievements, such as the space exploration, to push beyond the scientific frontier, and to take science and human progress to the next level. If you are looking for an inspiration to apply for UGRAD, my advice to you is that "be a good student, learn English seriously, and contribute back to the society through civil engagement activities both in and out of school."
UGRAD 2013-2014, Florida Gulf Coast University
Sovannara UK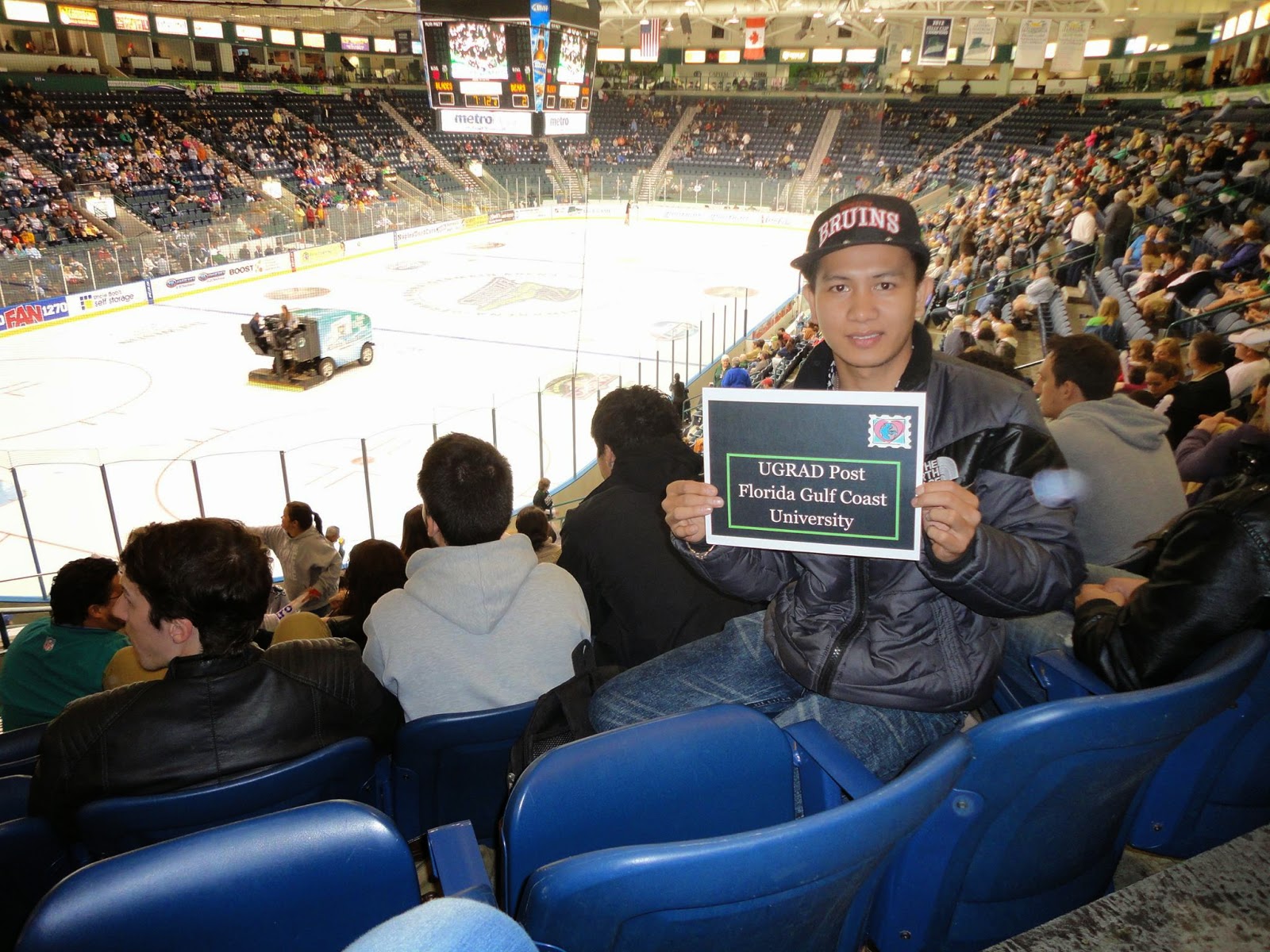 "Participating in UGRAD didn't merely help me improve academically, but I also learned to work collaboratively with people of different cultural backgrounds, and gained new knowledge, skills, and a better understanding of American society."
UGRAD 2013-2014, Utica College
Chansatya MEAS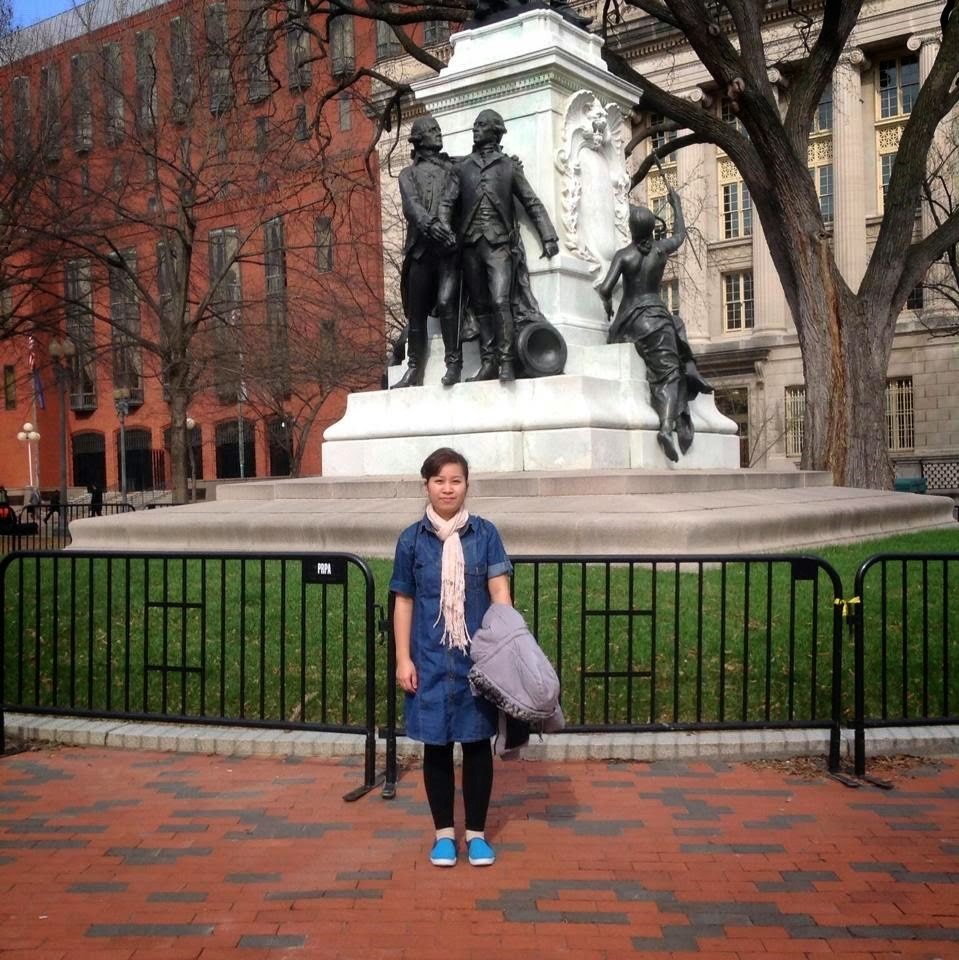 "I used to dream of flying to the US one week before I got selected in the Global Undergraduate Exchange Program. That dream came true to me, actually. I am finally here in Utica College, NY, USA. I am fortunate to experience such great educational system in a giant country about which I have ever dreamed. I cannot find any words to describe my feeling at the moment. I am grateful to my colleagues, friends and family back there in my home country, Cambodia, who are always by my side, encourage and inspire me to come to this far out of my comfort zone. This is a big accomplishment in life. Still, should I keep making my dreams come true and never stop growing."
UGRAD 2013-2014, University of Wyoming
Chanvotey LIM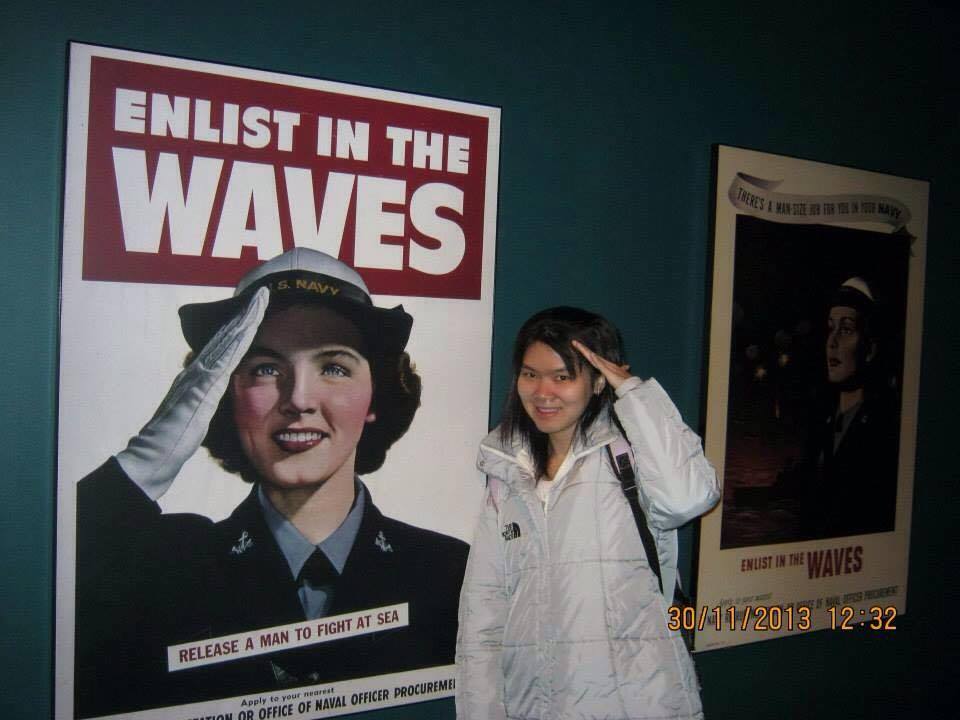 "Having received the opportunity as a UGRAD holder was a gift of my life. I could experience an academic journey in America, and most important of all, I had an opportunity to see how human capital formation has been developed through their qualified educational system which has so much positive impact on their society. Prior to my arrival in the U.S, I was  worried that my perspective on the world was different from them making it difficult for me to adapt to the new environment and that my English ability was too low  to catch up with what would be going on in everyday life. I was afraid I might end up like a fish out of water when I could not fit into their culture. Things turned out differently, however. I found out that American people were friendly. The reward that I earned over this credit was the fact that I got the chance to study and live in a highly developed country, share knowledge, and most of all to experience the diverse culture of America. What I would enjoy the most was the time that I could engage in community work. I later realized that American people placed social work at a much higher level among youth to elderly than people in Cambodia. My US experience has opened up my view to the rest of the world in a broader perspective ranging from the equal status of men and women, people from different race, less privileged children, and ethnic group. I would highly recommend this program to students who want to see themselves differently, most importantly, be a will to contribute to the society and a resourceful member for the country."
UGRAD 2014-2015, Old Dominion University, VA
Daravuth Rath SITHY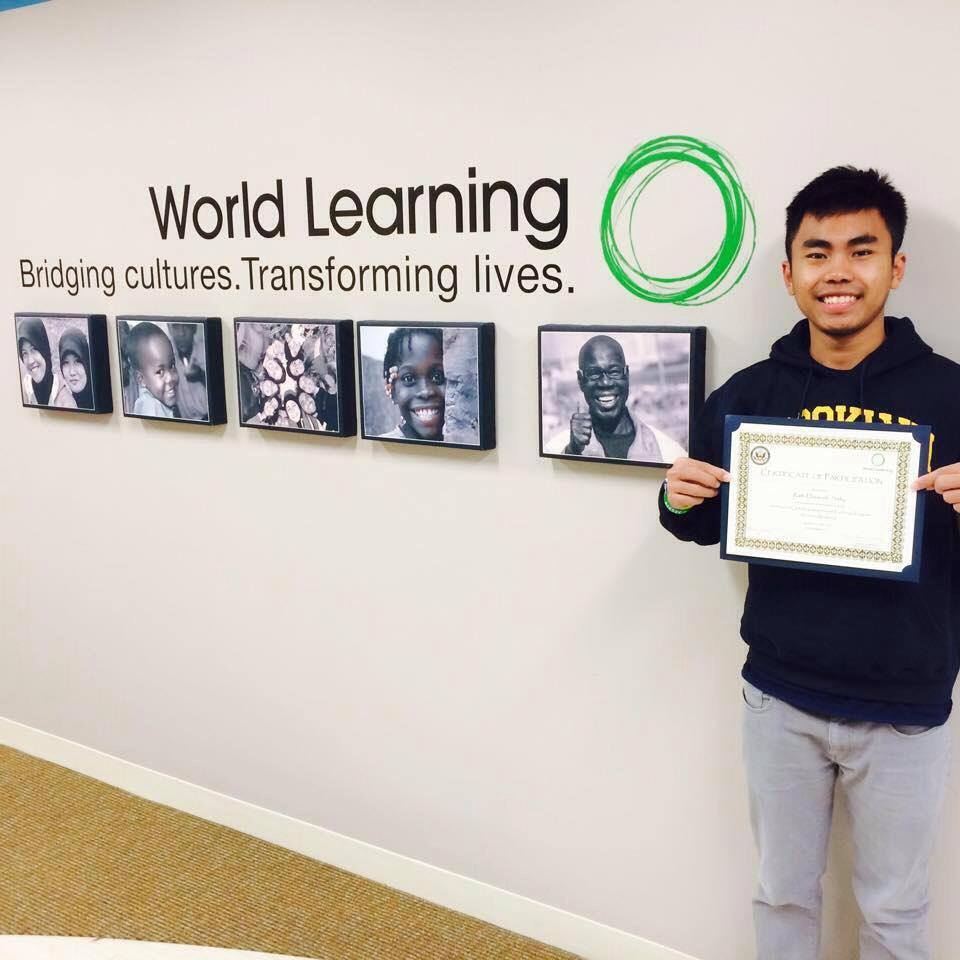 "My name is Sithy Rath Daravuth. I was a participant in the 2014-2015 Global Undergraduate Exchange Program (UGRAD) who undertook the major "International Studies" at Old Dominion University (ODU) in Virginia, the U.S. My tenure at this alma mater was only 5 months. Yet, it was the hallmark of my undergraduate academic journey due to many reasons.
What motivated me to undertake the program were my aspirations to expand my knowledge and to develop a richer understanding of the American society. Fortunately, the experiences I went through were beyond my set expectations. On academic matters, my exposure to the American multicultural learning environment enabled me to enhance both my knowledge and skill sets. The challenging (&compulsory) class activities I partook in (i.e debates, simulations, seminars,.etc) groomed me into a new individual with a refined confidence, virtue, worldview, and intellectual curiosity. My helpful supervisors, professors, and friends also relentlessly assisted me with overcoming almost all barriers I encountered. Indeed, their contributions made my learning experience astounding! Apart from academic matters, I also did a lot of extracurricular activities. These include joining academic clubs, trying out new hobbies, representing my country at international festivals and parades, participating in social movements on campus, volunteering, and traveling to distant areas. Not only did these experiences taught me valuable life lessons, but they also provided me ample opportunities to meet amazing people from different walks of life. Moreover, the inspirational stories they shared with me still empower me to challenge myself and motivate other people in my surroundings.
As a former participant, I encourage all awe-inspiring youths to undertake the UGRAD program. It will be the highlight of your academic journey. To prepare for the program, I advise you all to invest your efforts into equipping yourselves with (1) a growth mindset (2) an experience-driven passion in volunteerism, and (3) a strong background in your field of interest. Believe in yourself! Make your dream come true! Good luck to everyone!"
UGRAD 2015-2016, University of Wyoming
Reaksmeychhorpon LONG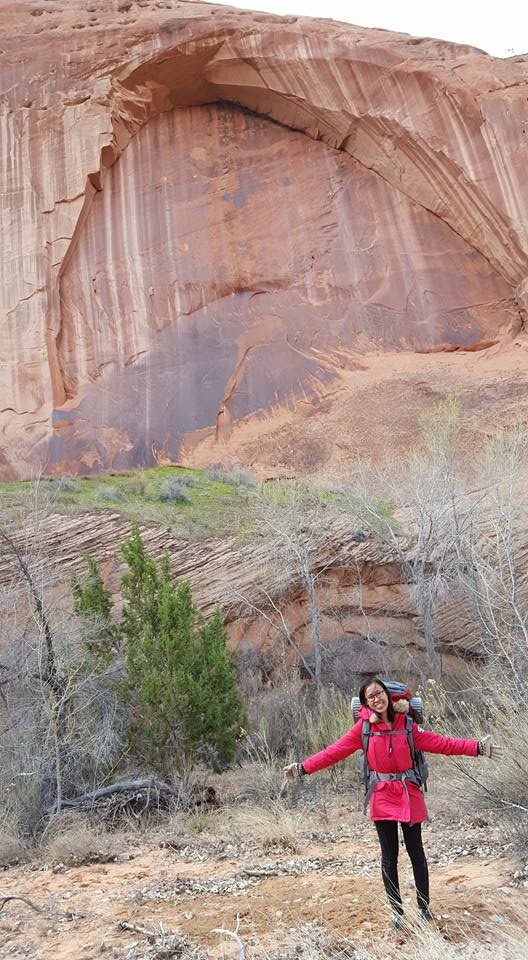 "I am LONG Reaksmeychhorpon. You can call me Marie.  I was awarded a scholarship  to go to study in the U.S for a semester at the  University of Wyoming  through the Global UGRAD 2016 program. I was sponsored because the program believes in me. They believe that I will be a potential changemaker of my country in the future. At the US, I feel that everything is possible. People follow their dream and allow you to discuss or debate your ideas freely in the classroom. I smell freedom of education and love how students are taught to become critical thinkers. I do dream big but was always afraid of getting started dues to many excuses. However, over there, I see people aim far, dream big, work hard and take risk. It is not only about to travel and have fun but also to gain something back, something that will later really make me a change maker for my nation. Dream big, Work extremely hard, Acknowledge the failures, Value people around, And don't forget to love."
UGRAD 2015-2016, California State University in Monterey Bay
Ping Ann OUNG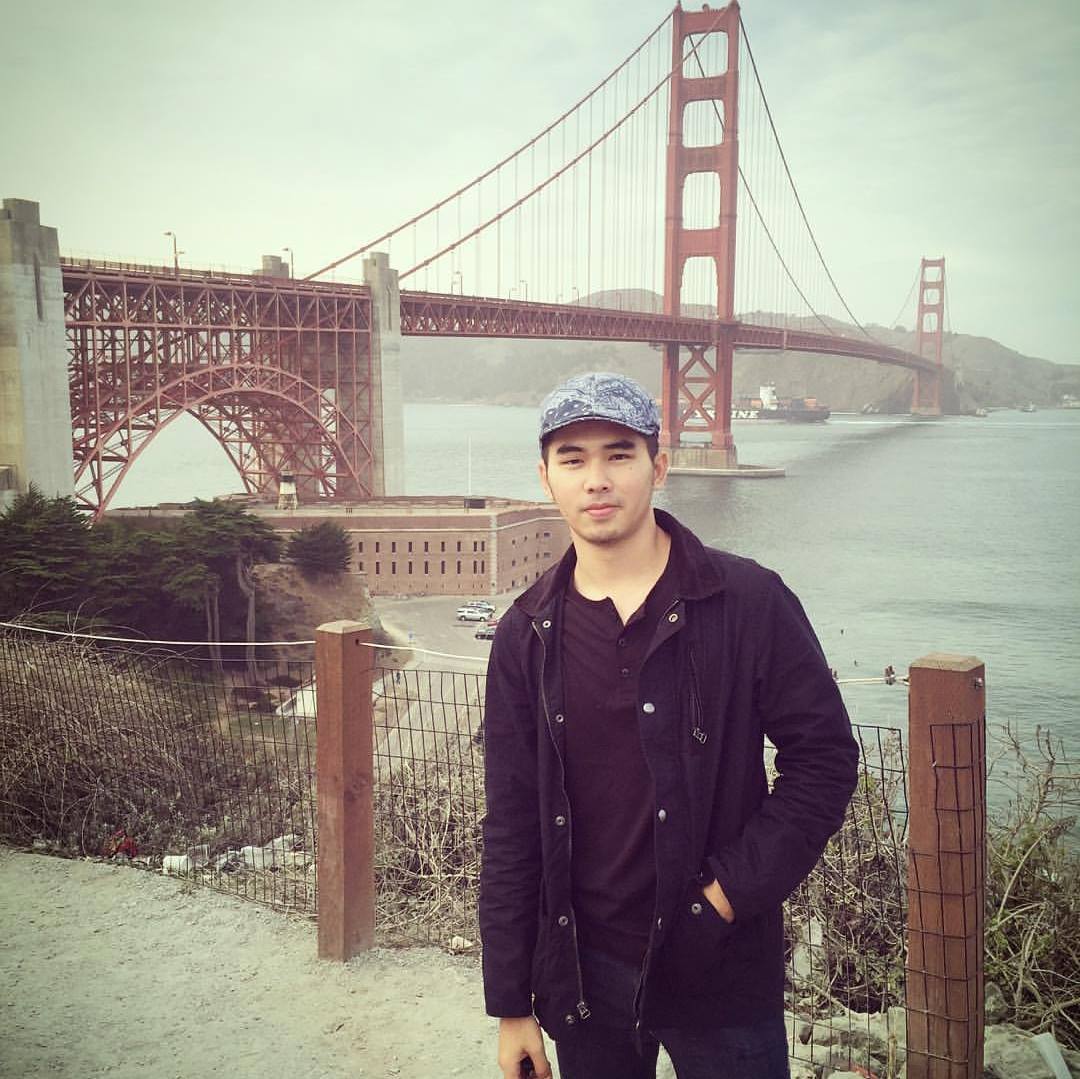 "UGRAD scholarship has changed my life. My experience in the U.S attending California State University in Monterey Bay has taught me to be more independent, diligent and thoughtful as a media practitioner. The quality of education I received from every course at CSUMB had allowed me to understand deeper on the existing issues related to the area I was majoring in. New challenges, lessons and in-depth thoughts were always present in every class lecture and discussions. UGRAD scholarship was an important turning point of my academic experience. In addition to this, traveling, networking and the opportunity to learn about different cultures were also one of the most rewarding experiences."
Like ផេក អាឡាដាំង 

 ដើម្បីទទួលបានពត៌មានជាច្រើនទៀត។